Matchday Mental Health Hub

Matchday Mental Health Hub, in association with the Beacon of Light and Washington Mind,
Matchday Mental Health Hub
#fanssupportingfans
The Branch Liaison Council journey started in March 2019 when one of our supporter branches held a fund-raising event at Victors, a pub in Sunderland, for Man Health.
The event raised fantastic £2,300 with £1,700 donated to Man Health and £600 to the Foundation of Light.
While on pre-season in Portugal, several of our branches came up with the idea of a matchday mental health hub, the beginning of our #fanssupportingfans.
The Branch Liaison Council, in conjunction with the Foundation of Light launched our first matchday hub in November 2019, manned by two trained counsellors from Washington Mind along with volunteers from the Branch Liaison Council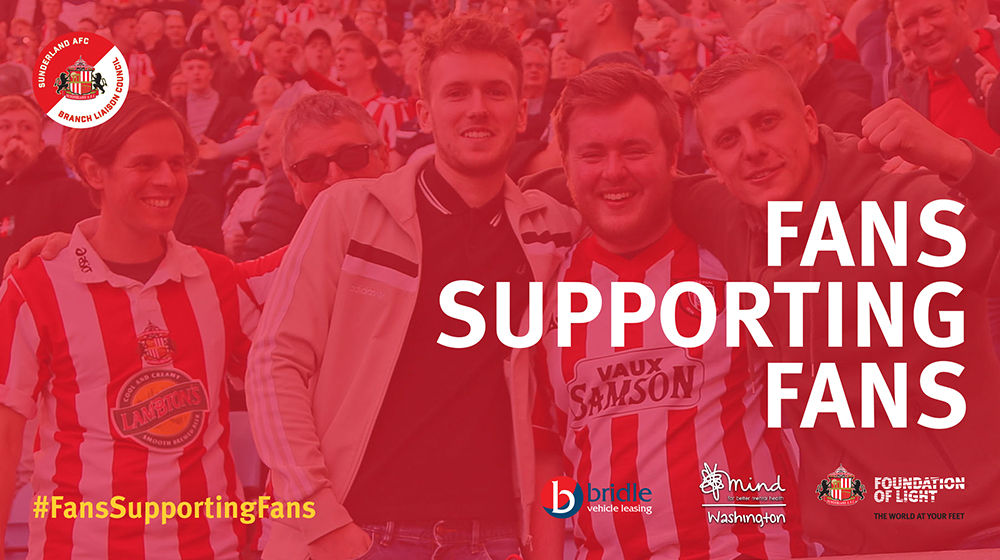 Matchday Mental Health Hub Opening Times
#fanssupportingfans
We are open every Saturday home game between 12:30pm – 2:30pm to both home and away supporters who maybe struggling and need to speak to a trained counsellor or just to call in for a coffee and a look round.
Visitors to the hub will receive a warm, friendly welcome, a private room is available for one to one conversations.
Due to current Government guidelines and the absence of fans at matches, the BLC and Washington Mind have offered an alternative to the matchday mental health hub with the provision of a daily live chat facility and plans are in place for the provision of a telephone support service in December and January.
Launched in 2019 with assistance from Washington Mind and The Foundation of Light
BLC members attended suicide awareness training
Open every Saturday home match day in the Beacon of Light for both home & away supporters
Launch of The Branch Liaison Council Fans supporting Fans page
Recognised by SAFC, HRH Duke of Cambridge, Premier League and EFL
More about our
Matchday Mental Health Hub

#fanssupportingfans
"If we can save just one person then everything, we've done has been worthwhile,"
While being proactive in raising funds for charities since its introduction in the early 1970s, the branch has taken further steps to help its supporters over the last few years with the introduction of a Matchday Mental Health Hub – the first of its kind.
"Before lockdown, we had eight hubs for three hours leading up to kick-off. We had seven people who came in to access support and it developed into something afterwards. In terms of visitors, we had over 150"
Through lockdown Washington Mind have been marvellous, we changed it to text support and telephone support
The initiative has also attracted interest from other clubs in England and Scotland ranging from Premier league to division 3 and lately a rugby league club.
If you do need support, or simply just someone to talk to, the Matchday Mental Health Hub is there to help.
Our
Matchday Mental Health Hub Santa's Postbox
Thank you to all the boys and girls and mams and dads for joining in our write to Santa activity yesterday !
We all had loads of fun!!  We'll be doing this again next week and we may have a surprise guest joining us, so come along and join from from 12:30pm
So far this season we have seen 85 visitors, 14 seeking support from a counsellor. We also hold weekly activities with young supporters, the theme throughout this is to be kind to friends and family
Number of Home Games since 7 Aug 21
Visitors to our Mental Health Hub since 7 Aug 21
Coffee & Chat with Counsellor (Number of Fans Supported)