International Fans Day 2023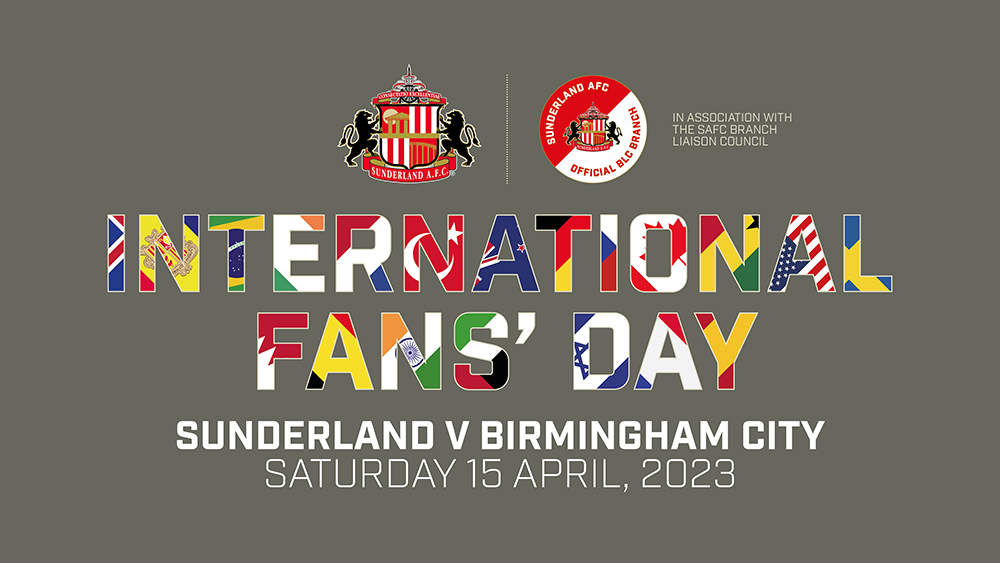 International Fans Day 2023
International Fans Day 2023
#IFD023
Sunderland AFC has a thriving supporters branch network, with over 50 UK-based branches and 35 overseas groups.
Following our successful International Fans Day in February 2020 the Branch Liaison Council, which represents branches in the UK and worldwide, has again joined forces with the club to host an international fans' day, when Sunderland AFC take on Birmingham City on Saturday 15 April 2023.
Fans from across the globe will be invited to join what will be another special gathering to celebrate Sunderland AFC's incredible support around the world.
Speaking about the event, Sunderland AFC chairman Kyril Louis-Dreyfus said: "Overseas supporters are important members of the Sunderland AFC community and International Fans' Day 2023 represents an excellent opportunity to celebrate the incredible following we have around the world. It would be fantastic to see supporters from across the globe travel to the Stadium of Light in April and I'm sure both fans, players and staff alike will ensure they all enjoy a weekend to remember."
"Our UK fan base continues to thrive, and we are also seeing an increase in interest from supporters from outside the UK, "Wearside is famous for the warmth of its welcome and it will be wonderful to meet some of our many international supporters on the day."
Cath Reid, secretary of the Branch Liaison Council: "It was always our intention to make this an annual event, unfortunately due to Covid this wasn't possible, but we are excited and looking forward to meet up with some of our many international members. They are an important part of our Sunderland family."
The BLC has put together a packed schedule of activities aimed at giving international visitors a true taste of Sunderland, including two matches at the Stadium of Light.
The schedule includes:
FRIDAY 14 APRIL 2023
A tour of the Academy of Light.
Fans Party, to be held at the Fans Museum in Sunderland, affording an opportunity for supporters to mix with each other and enjoy some of our famous Sunderland hospitality.
SATURDAY 15 APRIL 2023
Supporters get together in the SAFC Fan Zone for pre-match drinks and entertainment SAFC v Birmingham City, Stadium of Light
Post-match drinks and food at Victors in Sunderland
SUNDAY 16 APRIL 2023
A tour of the Beacon of Light and presentation from the Foundation of Light, showcasing their life-changing work in the local community.
A talk with Rob Mason, our club historian alongside Nick Barnes who will also display his famous matchday books.
International supporters interested in attending should CONTACT US via main contact page on our Website.